Halo... finally got this done.. i took a video on how to do this nail art.. and i spent like... soooo sooo long to edit it... cos i took it with my mobile instead of using a camera...and ist time editing video as well... its a total failure!! I cant find my camera's CHARGER!! where did i place it?! Aniway.. i jus took out some screen shots and post it here.. Hope its simple enough to understand and hope u guys like it~

Procedures :

The Materials needed for this nail art. ( Black nail polish, Gold Glitter Nail Polish, Crystals, Wooden pick up stick, Tape and Scissors)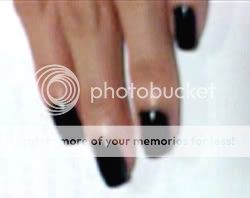 Start off with painting ur nails black and leave it to dry~ (Make sure its really dry enough if not the when peeling of the tape the nail polish will come out as well..)
Cut the tape into strips

Place it across the nails..
Do it on all fingers... i know my fingers are ugly!! =_=
Paint a coat of gold glitter nail polish on the outer part of the nail
Repeat procedure on all nails
Remove the tape gently when glitter nail polish is totally dry
Coat a layer of top coat along the line... Add crystals along it using the wooden pick up stick(choose can ur own type of crystals according to ur preferance.. i am using heart n round crystals)
Ta da.... Finished look... Rem to coat a few layers of transparent top coat so that the crystals can stay on ur nails for a longer period of time.... Hope u guys like it~~~
Luv,
Winiwn